Fused mullite
Author:河南新佳晟 Comefrom: Date:2014-4-20 18:52:14 Hits:

34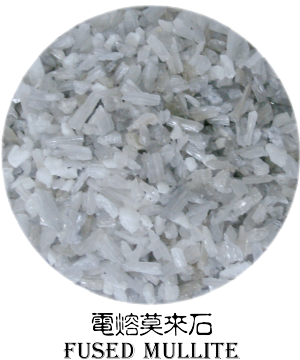 Fused mullite using high purity quartz sand, alumina, in the large arc furnace smelting and become, color is white, carbon residue is extremely low, acicular crystal growth is good, flexural strength, it has even dilation, thermal stability, excellent performance of high loading softening point, high-temperature creep is small, high hardness resistance to chemical corrosion, good, widely used in glass kiln lining brick, large blast furnace hot blast stove brick, ceramic kiln, sagger, plate, petroleum chemical industry, raw materials of high-grade refractory materials.
Physicochemical properties
Grade
Physical and chemical indicators
AS- I
AS- Ⅱ
Al2O3
70-74%
74-77%
SiO2
25-28%
22-25%
Na2O
0.25%
0.30%
Fe2O3
0.10%
0.10%
Crystal shape
Needle like, columnar, network
Melting point
Decomposition of 1810 ℃ or 1870 ℃
The mineral phase composition
Mullite
Mullite corundum, trace
Grain size
8-5MM 5-3MM 3-1MM 1-0MM 50-0MM
A fine powder
180F 200F 240F 325F (Fe2O3 ≤ 0.10%)
Bulk density
Packing.
The 1 outer woven bag, the inner layer plastic lining, bags of 1000 kg net each, upper and lower opening;
2.25 kg kraft paper bag, 40 bag into a tray, the outer winding film.
Website:
http://www.shinjiasheng.com/english/naihuoyuanliao/197.html